orbitronix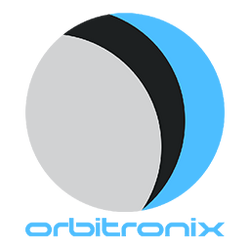 To The Cosmos
basic info
| | |
| --- | --- |
| full name | Orbitronix |
| location | Wolfsburg, Germany |
| year founded | 2043 |
| ships | TRX-22 |
| | |
| | |
| | |
| | |
| | |
| --- | --- |
| founder | Unknown |
relationships
Orbitronix is a German spacefaring technology manufacturer that played a large role in the colonization of the Solar System and helped construct all of the AGL's offworld venues.
Orbitronix TRX-22
"The Orbitronix TRX-22 is very fast, but its massive rocket thruster doesn't quite pack the acceleration its designers wanted. With their involvement in the construction of the AGL's offworld tracks, Orbitronix's entry into the Outer Reaches series is no surprise."
Added by the Outer Reaches expansion, the TRX-22 has a top speed nearly on-par with Nexus's and strong shields. Its slow acceleration, poor handling, and weak weapons are greatly offset by its speed, making it extremely competitive if flown properly.
History
A German engineering firm specializing in extraterrestrial applications, Orbitronix was formed in 2043, on the precipice of the explosive growth of privatized space travel. Over the next century, they established themselves as a major player in the industry, offering space construction services and producing highly reliable and cost-effective machinery for spacecraft and space stations. Thanks to their extensive contributions to space travel technology, they are often considered one of the main forces behind the colonization of the solar system.
In 2150, Orbitronix got their first taste of the AGL when they were contracted to design and build a racetrack into Omnicom's Lunar Orbit Satellite Array, creating the now-iconic Luna circuit. Their work on Luna earned them good favor among the AGL Commission, who also hired them to oversee the construction of the new Outer Reaches track series some time later. Having been involved in the creation of 7 AGL tracks, Orbitronix formed a racing team to compete in the league and bring extra publicity to their services, fielding what has been jokingly described by their own engineers as "a scaled down shuttle engine with a cockpit and AG Unit attached."
Orbitronix has a reputation for quality space machinery, and pre-season testing on the new Outer Reaches tracks shows that their TRX-22 is no different. However they perform in their upcoming debut season, their widespread notoriety and striking ship design are sure to make them a popular team.
Trivia
Orbitronix's name comes from a stylized conjunction of "Orbital Electronics."